I just became aware of the 31 for 21 Blog Challenge, hosted by Michelle at Big Blueberry Eyes.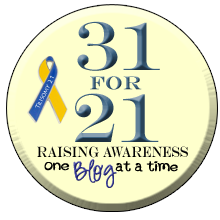 It goes like this:
October is Down Syndrome Awareness Month.

There are 31 days in October.

Down syndrome is also called Trisomy 21.

Blog every day in October to raise awareness of Down syndrome.
I love the perfect timing of discovering this challenge! :) It fits so nicely with the topic I chose for the 31 Days challenge.

For the 31 for 21 blog challenge, the posts do not have to be about Down syndrome (although, mine will be).

So...there you have it. What fun!